I just finished my first post for the HaxeFlixel community, introducing myself and our future goals!
HaxeFlixel is a cross-platform, open-source library for making games. Cross-platform meaning you can make Flash, HTML5, iOS, Android, and native EXE games all from the same code (and maybe even AIR builds now).
If you're worried about the state of the Flash player, you can literally just export to HTML5 instead to upload to NG. Or if you're looking to get onto Steam, just pick Windows/Mac/Linux export. It's that easy.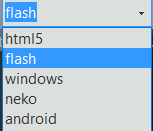 You can even use your existing SWFs as asset libraries, so you don't have to break your workflow.
The API is similar to AS3's Flixel, except modernized. Both have received praise for being easy to get into. It's being used a ton for Ludum Dare games but also in big games as well. Defender's Quest 2, for instance, will be on Steam as well as consoles.
For your first game or 30th prototype, check out how to get started!